JOHNSON'S "PURE" SOLDERS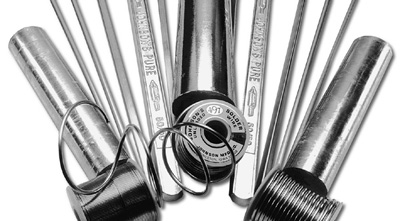 "VACUUM-CASTING" INSURES THE LOWEST OXIDATION
Johnson hereby claims exclusivity of our "vacuum-casting" process which insures all Johnson pure solder billets are 100% dense, oxide-free and without measurable segregation of elements. Billets are the purest form available for solder pots and also serve as feed stock for Johnson's bar, wire and cored-wire production. All Johnson solders carry forward this same high level of purity.
JOHNSON ALLOYS • COMPOSITION • MELTING RANGE • SHEAR STRENGTH
Forms & Sizes

Wire - Flux-Cored & Solid from .025" to .375" Dia.,
Spools: 1#, 5#, 20-25#
Tafa Reels: 20 - 40 #
Coils: 25# in Hex Cartons
Fiber Drums (with centers): 50-300#
Bar
Micro Bar (¼x¼x15")
Meter Bar (⅜x⅜x15")
Tri Bar
Extruded Bar
Regular Bar
Notch Bar
Vacuum Cast Billets Johnson's exclusive, 100% dense, Oxide-free, for solder pots
Paste Solders, Tinning Compounds, Tip Tinners with Lead-Free, Pure Tin or Tin-Lead alloys
Every Lot tested for Major and Trace Elements • Analysis Available upon Request
Lead Free Alloys
Lead Containing Alloys
Aluminum Soldering & Brazing
Specialty Alloys
Brazing Products
REQUEST JOHNSON'S QUOTE TODAY!
☎ 800-747-0030 • sales@johnsonmfg.com
"NON-CONFLICT" MINERALS CERTIFICATION
Johnson Manufacturing Company hereby certifies that all production lots are prepared using "NON-CONFLICT" mineral concentrates purchased through Electronic Industry Citizenship Coalition (EICC) sources who have documented their compliance with the pertinent regulations.