with Daycoat Technology
New and Improved Aluminum Repair Rod!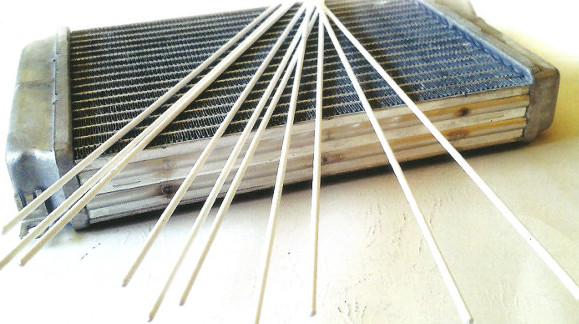 DayRod© 820 with Daycoat Flux is the latest aluminum repair rod. Repairing aluminum heat exchanger components is now easier than ever before. Dayrod 820 is our zinc/aluminum (80Zn/20Al) alloy coated with newly improved Daycoat Flux, a "low-temp", non-corrosive flux. providing great wettability and allowing for easy repairs and gap filling.
The Results are In!
Our R&D department has engineered our new Daycoat Flux technology to eliminate the charring associated with previous flux coatings. 100% of our current customers who have used the new and improved Dayrod 820 in the field have reported back that with the new Daycoat flux, there is no charring, and the new Dayrod 820 flows more quickly and consistently. making for easy and cosmetically attractive repairs. The newly improved Dayrod 820 is available for purchase immediately. Order yours today!
Uses
Heater Cores
Radiators
Condensers
Evaporators
Charge Air Coolers
Tubes
Features
Low Melting: 698°- 806°F; will not destroy Aluminum fins
Non-Corrosive - requires no post treatment
Easy to use - no special tools required
Quick flow
Economical to use
Cadmium Free
| | | | | |
| --- | --- | --- | --- | --- |
| ITEM | uncoated 10 | uncoated 50 | Coated 10 | Coated 50 |
| Dayrod 820 | 790-21 | 790-22 | 791-21C | 792-22C |
Watch our videos showing Dayrod Repairs:
View our Usage instructions | Safety Data Sheet for this product.