You are here: Home >Our History
History of Johnson Manufacturing Company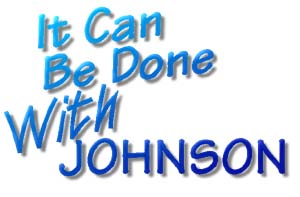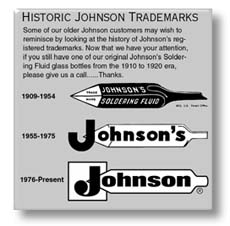 Johnson's story began in St. Louis, Missouri in the late 1800's. The following statement was provided by the late Charles W. Johnson, son of the late founder Charles H. Johnson.
"The original Johnson's Soldering Fluid was developed as the result of the difficulty my father had in soldering laundry equipment that he manufactured and repaired. Galvanized cylinders of the washing machines posed a very difficult soldering problem."
Besides making fluid for his own needs, the elder Johnson began giving it to his friends in the St. Louis area. When he moved to Cedar Rapids, Iowa in the early 1900's his friends still wanted this unique soldering flux. In 1909 he began marketing Johnson's Soldering Fluid and at that time he coined the slogan "It Can Be Done" which has been used in conjunction with the Johnson logo ever since.
In 1945 Charles W. Johnson, the son of Charles H. Johnson began working in the business and in 1950 Johnson Manufacturing began to focus on Auto Radiator Repair Supplies.
In 1964 Johnson Manufacturing Company moved from Mt. Vernon, Iowa, to Princeton, Iowa, where it is still located today.
In 1976 Charles Johnson retired from the business and the company was acquired by Gardiner Metals out of Chicago, Illinois.
In 1995 Johnson Manufacturing was purchased from Gardiner Metals by Alan Gickler and Larry LePrevost.
The Johnson Manufacturing Product line was expanded in 2003 with the acquisition of LB Allen Fluxes and Chemical Products
In 2005 Johnson Manufacturing Company acquired a line of Jewelry Fluxes and Brazing Fluxes from AACCO, purchased a SpectroLab Spectrometer for analyzing metals and alloys, and became ISO Certified
In 2007 Johnson Manufacturing Company expanded again, this time by acquiring the SA Day Manufacturing Company in Buffalo, New York. SA Day was founded in 1912 and their product line includes production fluxes for Copper/Brass and Aluminum Radiators along with DayRod technology. In 2016 we consolidated production of the SA Day Product line into the Iowa facility.
In 2017 we acquired the Deoxaluminite product line.
In 2019 Johnson Manufacturing Company celebrates 110 years of being in business.
Today, Johnson offers one of the most complete lines of commercial and industrial solders, fluxes, tinning compounds and brazing fluxes in the entire world. Our company is increasingly driven by new product development, technology and the SAI, ISO 9001:2015 Quality Management System. We pay strict heed to our founders commitment to provide "quality, consistency and uniformity" with each and every batch.